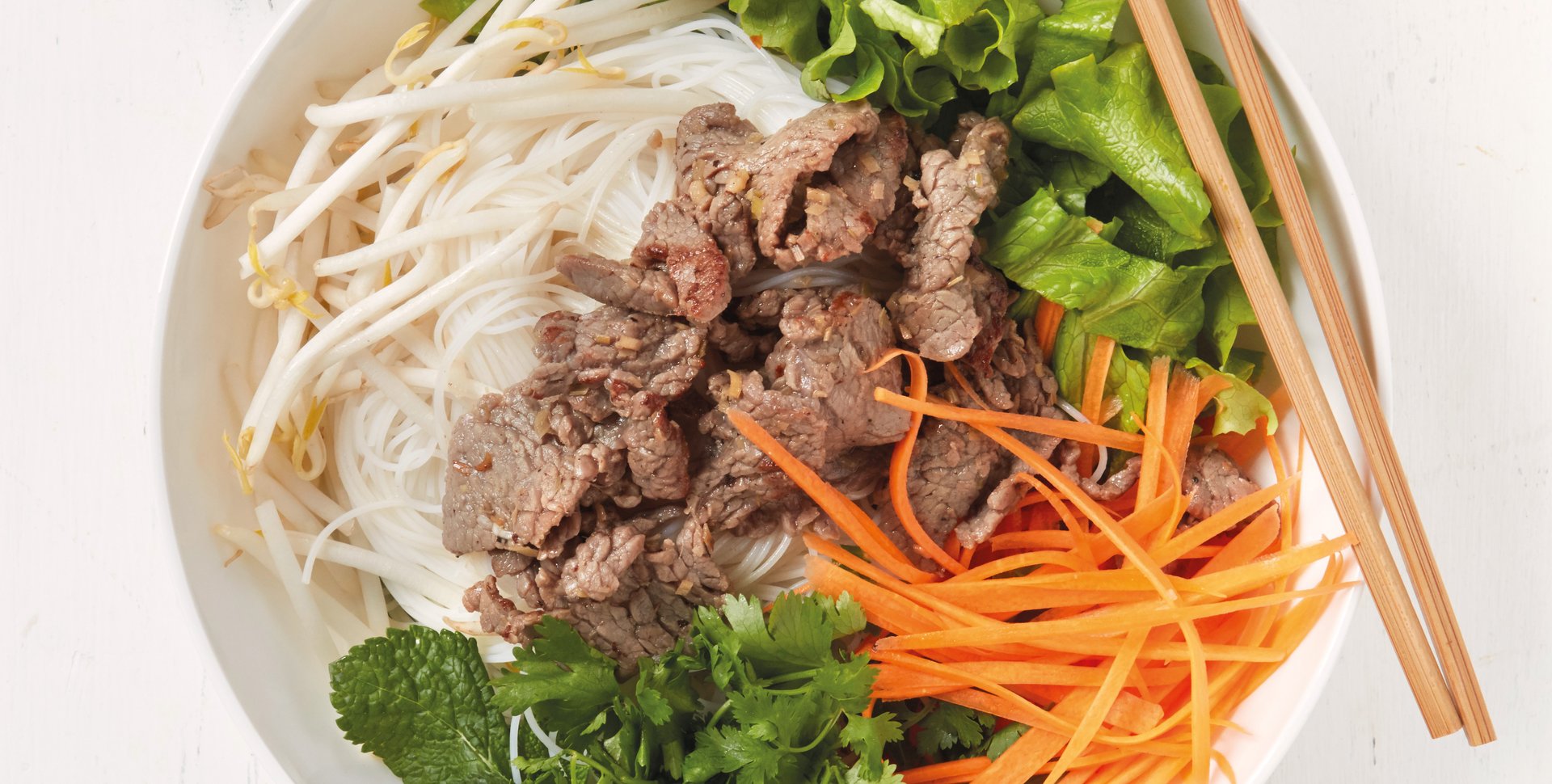 Ingredients
700 grams of beef rags, cut into pieces
2 cloves garlic, pressed
20 grams ginger, pressed
1/2 teaspoon salt
2 level tablespoons cane sugar
3 tablespoons fish sauce
3 stalks of lemongrass, finely chopped
freshly ground pepper
5 tablespoons Go-Tan wok oil
Preperation
Cut the meat. Cut off the ends of the lemongrass stems and use only the juicy parts. Cut the stems into approximately the same size pieces and then chop finely with the mixer or a knife. Mix the salt, pepper, sugar, fish sauce and garlic. Add the meat, ginger and finely chopped lemongrass. Stir the ingredients by hand so that the marinade spreads well. Put in the refrigerator for at least 2 hours.
Prepare the sauce. Dissolve the sugar and salt in the water. Add the fish sauce, garlic and chilli. First add the juice of 2 limes, mix and taste if there is more lime juice to go with it. Set aside. You can prepare the sauce in advance and store it in the refrigerator. The sauce then stays good for 1 week.  
Cook the Mihoen according to the instructions on the package. After draining, rinse them with cold water so that they do not stick and drain well. Wash all the vegetables.
Prepare the bowls. Divide some strips of iceberg lettuce over the bowls, then add the Mihoen, bean sprouts, carrot and herbs.
Heat a wok or frying pan. Pour the wok oil into the pan. Put the meat in the pan and sear it in just 1 to 2 minutes on high heat. Stir well.
Divide the meat over the bowls and pour the sauce over them. Stir the ingredients together before serving.