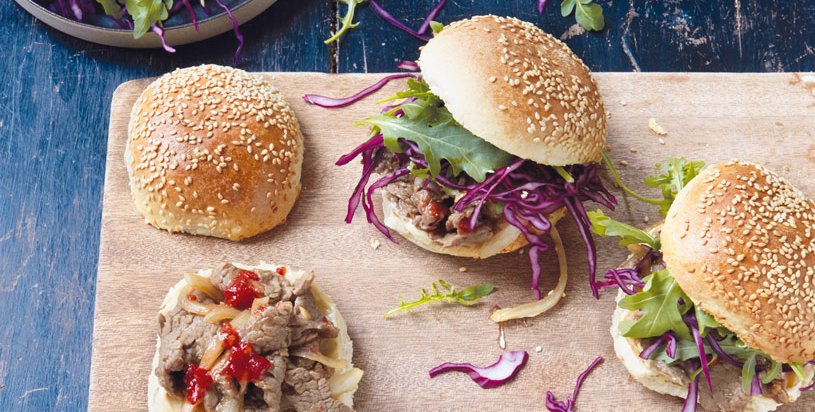 Ingredients
500 grams of beef steaks, cut into pieces
1 onion, chopped
2 cloves garlic, crushed
15g ginger, grated
6 tablespoons Go-Tan Original Wok All Natural Teriyaki
30ml Go-Tan Wok Oil or sunflower oil
4 sandwiches
¼ red cabbage, cut into thin strips
100g arugula
8 tablespoons mayonnaise
Go-Tan Sriracha hot chilli sauce, depending on the desired spiciness
Preperation
Mix the meat, garlic and ginger well. Mix a little Sriracha into the mayonnaise.
Preheat the oven to 160°C (gas setting 5-6). Cut the buns in half. Place them in the oven for 5 minutes to warm them up.
Heat a wok or frying pan. Put the wok oil and onion in the pan. Fry the onions for 10 seconds and then add the beef. Sear the meat for 30 seconds and then add Go-Tan Original Wok All Natural Teriyaki. Stir the sauce through the meat. Taste and add more sauce if necessary.
Spread the buns with the spicy mayonnaise and divide the meat over the buns. Put some more red cabbage and arugula on top of the meat and place the top part of the bun on top. Enjoy your meal!