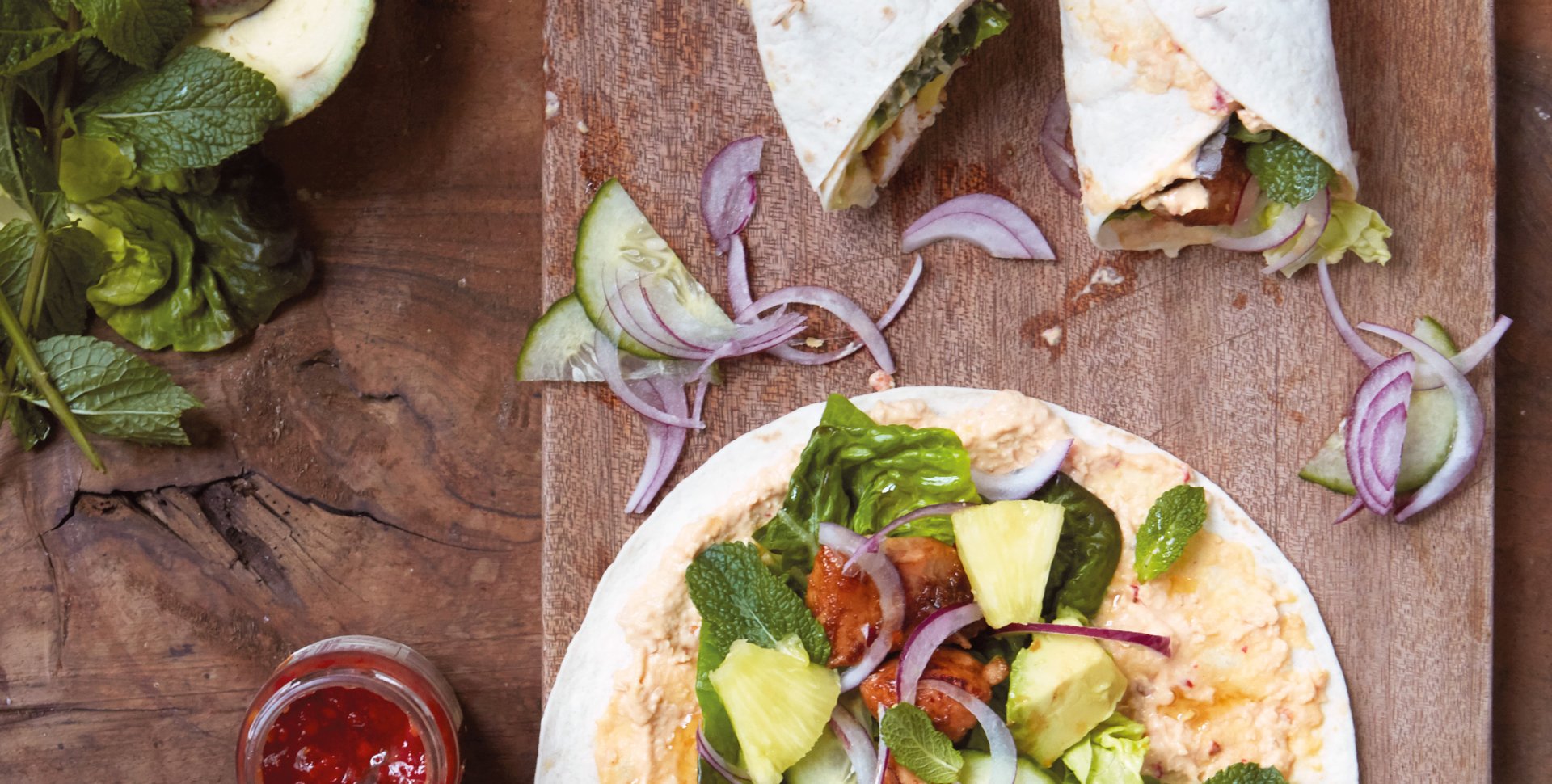 Ingredients
400 grams chicken breast, cut into cubes
2 cloves garlic, crushed
3 tablespoons sweet soy sauce
2 tablespoons Go-Tan Sambal Oelek
3 tablespoons Go-Tan Wok oil
4 wraps
2 ripe avocados, cut into cubes or strips
the leaves of 4 sprigs of mint
8 tablespoons hummus natural
8 lettuce leaves (lollo rosso, lettuce, or the like)
4 slices of fresh pineapple, cut into pieces
1 small red onion, chopped
1/3 cucumber, cut into small pieces
1 teaspoon of Go-Tan Sambal Oelek, depending on the desired spiciness
2 tablespoons Go-Tan Sesame Oil
½ lemon
salt
Preperation
Mix the garlic and the chicken pieces. Sprinkle with a little salt. Set the mixture aside and wash and cut the vegetables, except the avocado.
Mix Sambal Oelek, sesame oil and a little lemon juice through the hummus.
Heat the wok oil in a wok or frying pan. Place the chicken in the pan and fry until golden brown. Then add the soy sauce and the Sambal Oelek. Taste and add more sauce if necessary. Set aside.
Heat the wraps according to the directions on the package. Meanwhile, slice the avocados. Pour a little lemon juice over it.
Spread the hummus over the wraps. Top with lettuce leaves. Divide the chicken over the wraps and place the pineapple, cucumber, onion, mint and avocado on top. Roll up the wraps. Stick a cocktail stick through the wrap to keep it closed. Cut the wrap in half. Enjoy your meal!