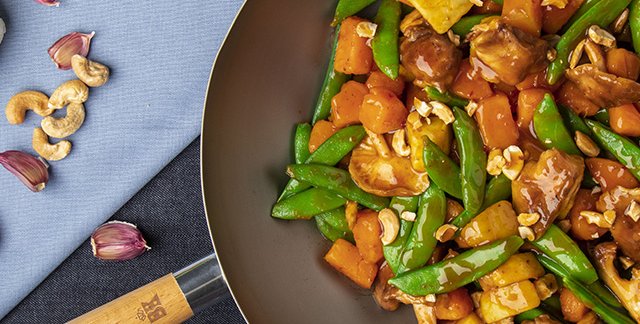 Ketjap sesam wok met zoete aardappel en shiitake
Ingredients
2 sweet potatoes (+/- 500g)
240ml Go-Tan Original Wok All Natural Soy sauce Sesame
15ml Go-Tan Wok Oil or Sunflower Oil
250g sugarsnaps
1/2 tsp Go-Tan Chopped Garlic or 1 fresh garlic clove
1tl Go-Tan Chopped Ginger or 1cm fresh ginger
150g shiitake
Optional: unsalted cashew nuts
Preperation
Peel the sweet potatoes and cut into cubes. Boil them in a saucepan of water without salt al dente. Drain and set aside.
Heat a wok or frying pan, add oil and fry the sugarsnaps and shiitake together with the garlic and ginger al dente.
Add the potato cubes and stir-fry for another 2 minutes.
Add Go-Tan Original Wok All Natural Soy sauce Sesame and heat for another 1 minute.
Garnish the dish with some crushed cashews.